Zane Hilton, Esq.
Senior Associate Attorney
CONTACT:
E-mail: Zane@bohmlaw.com
Toll Free: 866-920-1292
Office Phone: 916-927-5574
Facsimile: 916-927-2046
OFFICE:
Sacramento
4600 Northgate Boulevard, Suite 210
Sacramento, California 95834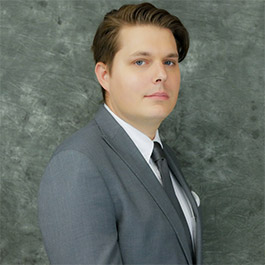 Zane Hilton is a Senior Associate Attorney in the Sacramento, California office. Mr. Hilton grew up in Avon, Indiana, a suburb of Indianapolis. After graduating from Avon High School in 2008, he moved to New Orleans, Louisiana to attend Tulane University. While at Tulane, his major was Legal, Moral, and Social Philosophy, and he earned his Bachelor of Arts, cum laude, in 2012. In addition to attending Tulane, Hilton was a professional actor, sound engineer and lighting designer. His credits include work in both Regional and off-Broadway theatre.
After undergrad, Mr. Hilton was admitted to Tulane University Law School, where he graduated cum laude in 2015. Hilton was an Articles Editor of the Tulane Law Review, and a member of the American Association of Justice moot court team.
During his first summer of law school, Mr. Hilton was a Summer Associate at the United States Department of Justice, Civil Division (USDOJ) in Washington, DC. While at the Department of Justice, Hilton worked on a wide variety of legal issues, but the majority of his time was spent on the infamous BP Deep Water Horizon litigation.
Mr. Hilton first met attorney Lawrance Bohm during a 2014 interview program in New Orleans, where he was selected to be a Summer Law Clerk. He joined the Bohm Law Group in the summer of 2014, and was promoted to the position of Associate Attorney when he was admitted to the California Bar. While working at BLG, Hilton has worked on several important trials involving employment law, and personal injury.
EDUCATION
B.A. Tulane University Law School
J.D. Tulane University Law School
ADMISSIONS
California State Courts
U.S. District Court of California, Eastern District of California
U.S. District Court of California, Northern District of California
U.S. District Court of California, Central District of California
U.S. District Court of California, Southern District of California
9th Circuit Court of Appeals
PROFESSIONAL ASSOCIATIONS
American Bar Association
State Bar of California
California Employment Lawyers Association (CELA)
Consumer Attorneys Association of Los Angeles (CAALA)
Consumer Attorneys of California (CAOC)
Capital City Trial Lawyers Association (CCTLA)
Sacramento County Bar Association (SCBA)
SaveSave
SaveSave
SaveSave
SaveSave